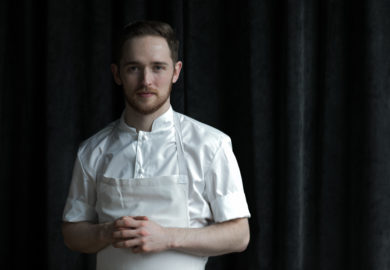 DAVID TAYLOR
Name: David Taylor
Position: Head chef
Age: 30
Been at THE THIEF since: October 2017
Former workplaces: Maaemo ***, Purnell's *, Maze * / Staged at: Relæ *, Grace ***, Momofuku KO **, Atera **.
Education: Culinary arts foundation degree
–I have worked in star restaurants, but never in hotels, so there are lots for me to learn. I do believe I bring a different point of view to the table, and I strive to bring the energy and engagement for the rest of my team everyday
The recipe for the best hotel experience:
–Not only a great bed, warm service and a feeling of relaxation, but also to create an experience that touches you on a personal that-was-just-for-me–moment.
My favorite art work at THE THIEF:
–The Giant smiling sunflower by Murakami, its a huge crazy looking pillow, I love it!
My life as a THIEF:
–As chefs we often do dinners together at each others restaurant, and there was a saying I remember: «We always only ever bring with us what we need but we always leave with a little extra». New gastros, tweezers, a random spoon, all our stuff gets mixed together so we never intentionally stole, but I am sure most kitchens have a random out of place bowl, or plastic box they never bought! Now you know why!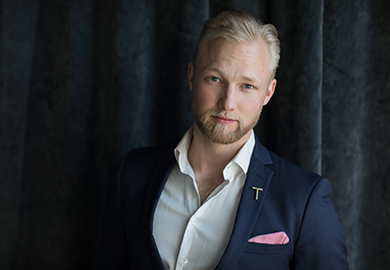 OSKAR KJELLBERG
Name: Oskar Kjellberg
Position: The Restaurateur
Age: 25
Been at THE THIEF since: February 2018
Former workplaces: Crème Stockholm, Café Opera / Operakällaren, Sandhamn Seglarhotell
Education: Food & Beverage Management
–I played ice hockey for 14 years, and that educated me to be a determined team player, and to reach goals. Personally: I need to do physical exercise every day to stay focused.
The most important for the restaurant is that the dynamic within the staff is good and that every individual feel joy combined with motivation to work and to reach our targets.
The recipe for the best hotel experience:
–To experience the expected things but in a unexpected way. Basically by being Proactive as a hotel staff.
My favorite art work at THE THIEF:
–It is Damien Hirst painting «Beautiful amore …», 1997, that hangs on the wall in THIEF FOODBAR: To me the painting is symbolizing organized chaos, which reflects a day in the business, which is something I love!
My life as a THIEF: 
–I steal away ordinary faces in order to put on a happy face on our guests. Other than that, I am *always* innocent.